Our Products
Fixed Wing Helicopter Helmets
For over 45 years, Government Sales Inc. has been producing wing helmets for sale of the highest quality. If you are a pilot, you understand that having a comfortable pilot helmet for your missions is a priority.
Check out our Fixed Wing Helmets
Our helmets come equipped with clear/dark visor assembly, styrene liner w/ leather fitting pads, cast bayonet receivers, military earphones in standard plastic earcups, helmet cords, white chin & nape straps w/ pads, and standard edge beading.
At Government Sales, Inc., we become a leader in fixed-wing aviator helmets, helicopter helmets, and jet pilot helmets. All of our flight helmets are functional and adaptable. Whether you are looking for U.S. Air Force grade helmets or helmet systems that can offer multi-platform use within the Army, Coast Guard, Law Enforcement, and/or civilian rotary aircraft, we have it all.
We also test our helmets to see if they remain firm under real flying conditions. If any of our fixed-wing aviator helmets does not cater to the needs of the pilot, they will be discarded from our production line and not be placed on the market. Our goals for pilots when it comes to our helicopter helmets will always be safety and comfortability.
Kevlar is an ideal antiballistic substance for aviation helmets (projectile- and knife-resistant) since it has high tensile strength. Tensile strength is basically the resistance offered by a material against a force to prevent elongation. The tightly woven fibers of strongly directed (lined-up) polymer molecules are incredibly difficult to push apart: splitting them requires an immense amount of energy and time. Most famously, it is used in the making of bulletproof vests, lightweight helicopter helmets, and other lightweight military equipment.
Before each flight, inspect the fixed-wing helmet for serviceability. When wearing the flight helmet, ensure it is worn correctly, it is secured to the head, and all straps are fastened. While conducting flight operations, an extended flight helmet visor can protect the face during an accident sequence and can also protect the face from a bird strike. It is a good idea to carry a backup headset in the cockpit, just in case the flight helmet's internal communication system malfunctions or fails.
Pilot Helmet Safety
We take the safety of our fixed-wing helmets seriously, including:
Performing and carrying out all checks and examinations.
Generating and maintaining sufficient evidence of conformity.
Submitting helmets and supporting supplies that comply with the requirements.
Following quality management techniques.
One or more of the following methods can be used to verify that the helmets comply with requirements:
Inspection testing without the use of special test instruments or procedures.
Analysis verification that uses established technical or mathematical models, simulations, formulas, etc.
Demonstrations involving actual activity, modification, or reconfiguration.
Check testing that requires a detailed evaluation of the object under defined conditions.
If you're a pilot that needs a high-quality helmet for your aviation missions, order your helmet today!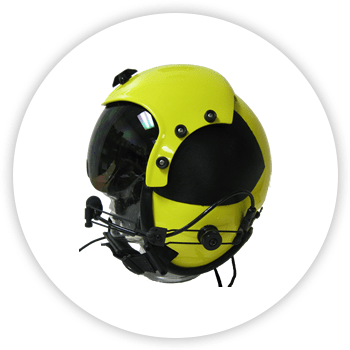 Be the first to know about the latest products, exclusives and offers like our Fixed Wing Helmets! Connect with us on Facebook as well!