Our Products
Add to cart

Add to cart

Add to cart

Add to cart
Military Helicopter Helmet
For over 45 years, Government Sales Inc. has been producing an EVO military helicopter helmet for sale of the highest quality. If you are a pilot, you understand that having a comfortable helicopter helmet for your missions is a priority.
Because we've been in the aviation business for many years, we understand the craftsmanship and the time that it takes when making a helmet. We check to see if the helicopter helmet is covering the full head which includes the back portion near the neck, and the jaw.
Choosing The Right EVO Helicopter Helmets
When it comes to helicopter helmet safety, the right equipment is essential for the aviation industry to ensure the health and reliable communication with all pilots and passengers who may be in the aircraft. For instance, a helicopter pilot without the right EVO helicopter helmet would be restricted in their ability as far as eyesight, protection, and sound. When looking for the right aviation helmet, it is important to take note of the small details that can make a big difference in helicopter helmet safety. Before selecting a helmet, be sure to look at each of the following elements to find out if they are appropriate for your needs and meet or exceed expectations.
Secure Protection 
As the very first priority, a pilot needs secure protection against head trauma. Thus, an EVO helicopter helmet that provides secure, durable protection is of the utmost importance. Before making the purchase of a helicopter helmet, confirm the materials are used to manufacture the product. Lightweight and heavy-duty carbon products can ensure that your head is protected, while comfortably allowing you to do your job as a pilot. A solid visor will also cover your eyes, so check to see which visor choices and measurements are appropriate.
In addition, we make sure that the fit of the headset should be comfortable with your helicopter helmet. If you are a pilot, you understand that it's a must to always be at ease with your personal headset. It is for the purpose of long term usage. Due to this particular fact, we always make sure that our quality is not compromised. We believe it is judicious to purchase a set that has been manufactured by a reputed company such as Government Sales. Rest assured that our helicopter helmets for sale are protective and be properly tested in different conditions.
We also test our helmets to see if they remain firm under real flying conditions. If any of our helicopter helmets does not cater to the needs of the pilot, they will be discarded from our production line and not be placed on the market. Our goals for pilots when it comes to our helicopter helmets will always be safety and comfortability.
Custom EVO Helicopter Helmets
Did you know that we can customize your EVO helmet?
The EVOLUTION Helicopter Helmet is an innovative design that features a lightweight shell construction of Kevlar and Fiberglass. The use of these materials enables the EVOLUTION to be extremely light and incredibly resilient to penetration and impact.
The EVO Helmet adapts to your needs with the Quick Release Communication Cable System & NVG Battery Mount. Easily switch your communication cable between different aircraft & no more need for the velcro to attach NVG Batteries.
If you're a pilot that needs a high-quality military helicopter helmet for your aviation missions, order your helmet today!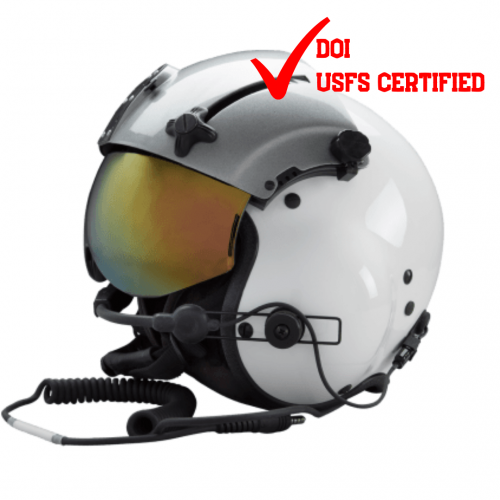 Be the first to know about the latest products, exclusives and offers.